I just submitted a packet to SNL which is such a huge milestone. Everyone wants the chance to submit a packet to SNL and we all got one. It's a great time to be comedian.
Between finishing that packet and working, I've had to let writing about DCM21 fall by the wayside but I'm going to finish because it's a good idea to. A lot of things happened and I need to record this experience because it was a happening. There's so many details tho. I'm gonna try my best.
I left off at The L Ron Hubbard Invitational Monoscene. And so the next thing that happened, right at the end of this bit show they invited the audience to come on stage, so I went on stage BABY. I guess you can say, I performed at DCM.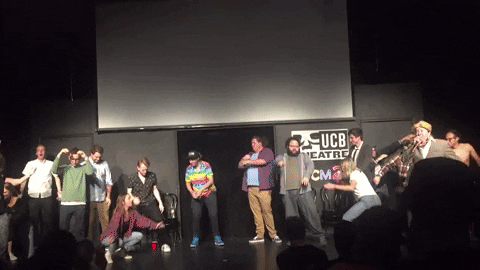 I'm kind of wishing I had taken my camera with me, but I think I was trying to be in the moment. Something about being both a behind da scenes journalist and performing artist.
At this point, the only way I am remembering what happened are the photos and videos I took.
The next bit show was called "Crotch Ripper"
This was so uncomfortable to watch. I can't tell you a single thing about what they were improvising about but they all had to rip their crotches.
And again this Ify Nwadiwe guy, who was in the Comedians of Wrestling bit show, has such violent energy. I felt so uncomfortable for this entire bit show. Everyone else was kinda justifying their ripped pants with yoga or whatever, he just violently ripped his pants, no justification.
And then… this happened.
that's not his crotch…

that's his butt
Next was "Peter Banifaz Plays a Doctor".
I really wanted to go home at this point but I planned to stay until 4:00am. About an hour more of bit shows. I'm in it to win. My friend from the improv class, bowed out at this show because he had no idea what was going on. Neither did I.
Next was "The Mirror Twins" with James Dwyer and Caroline Cotter.
They would move and say the same things at the same time. They were doing "mind meld". They ended saying "I am insane".
Next was "Long Haired Businessmen". At this point I was tripping a bit and this show had a very bizarre energy.
I was seeing a bright aura around James Dwyer and couldn't keep my eyes off him. He was talking about doing bit shows at DCM where he could do "whatever he wanted" like scream into a mic. The other Long Haired Businessmen were ostracizing him. Overall, another show I didn't get.
Moving right along, Beth Appel presented "5 Minutes of Perfect Improv and a 5 Minute Standing Ovation."
This was more along the lines of DCM bit shows I was used to. They did 5 minutes of "perfect" improv and then the audience did a standing ovation for 5 minutes. I got fully into this. I also took this as my opportunity to get close to the exit. Even though I was very delighted by this bit, I was so uncomfortable from before and the bad vibes were real.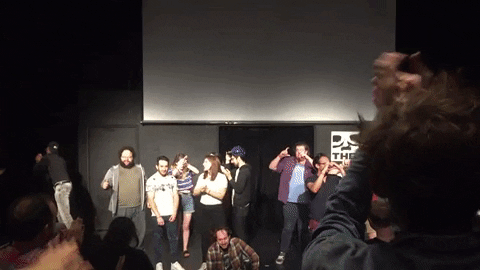 At this point, the same few improvisers are doing almost every show and that feels a little weird to me, considering submissions weren't accepted for this DCM and everyone was "invited". Are there really this few comedians in LA? Real question.
The last show I watched before heading out was "2 Man Blue Man Group" and I felt really compelled to stay for this because I was so curious, but I definitely wanted to leave before the "Bottle Smash" because based on the previous bit shows, it's all literal and that sounded violent and I did not want to experience it.
The 2 Man Blue Man Group was very interesting.
They did a bunch of weird stuff. There was a lot of eating marshmallows off the ground and throwing marshmallows into mouths. It seemed like they were telling a story, and in my tripping mind I thought the story was about how the UCB stage had been hijacked by a violent gang.
They got two volunteers from the audience, slathered blue paint on them and then got the guy to successfully throw a marshmallow in the girl's mouth.
I left after this show and ran into the girl in the bathroom. She seemed in a daze. I told her how cool it was of her to volunteer and that I had a video of the show, so I sent it to her.
Deep down I couldn't help but feel like this was yet another mean spirited joke. Someone next to me commented on how they were both wearing white or light colored shirts.
I took some of the paint from the girl and put it on my own face and went back to my hostel. I felt so shaken by everything I saw that night. Something felt really off, like everyone was too drunk and a lot of the bits were mean spirited or violent. I was disappointed, but there was one bright light in the schedule.
The only bit show I wanted to see. I went home for some rest and then planned to come back for "We're Playing Britney Spears' Toxic for Ten Minutes" which I will write about in Part 3!!!